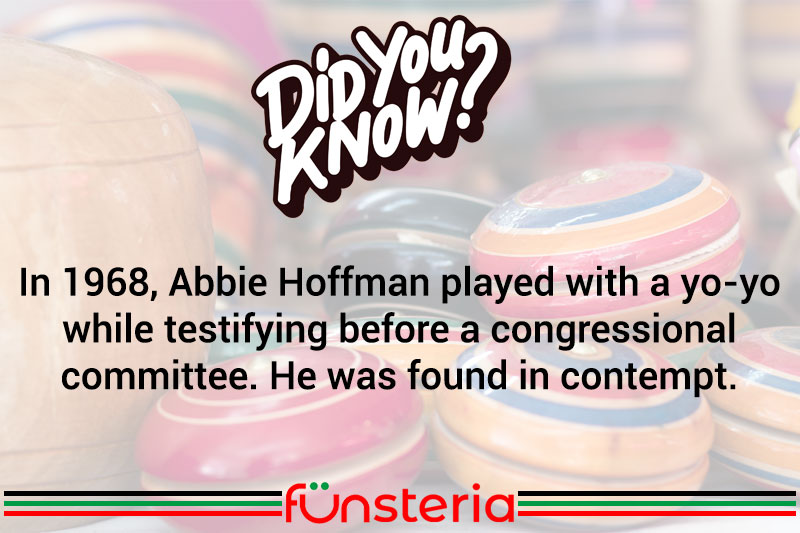 Several countries argue for the rights to claim invention of the yo-yo. Why, is anybody's guess. But there doesn't appear to be any firm proof that it can be attributed to one nation. Rather, several had similar items that resembled the modern yo-yo, and may have been the inspiration for other claimants to the yo-yo throne.
It is generally accepted that the oldest evidence of a yo-yo like device existed in China, around 1000B.C. It was known as the Diabolo, but nobody seems to have any idea if it was strictly for fun. Then there were the pair of Greek disks, fastened together much like the yo-yo. But they tended to be fragile and have a decorative look, lending themselves more to being spools for thread, or to roll up the cord on curtains.
So even though it is often touted as the world's second oldest toy, there is absolutely no evidence to back it up. All that is really known for sure, is that it's been around for centuries, and had its ups and downs. In the "modern" era, a dutch tile dated somewhere in the mid 1600s shows a boy playing with what is clearly a yo-yo. This is more than 150 years ahead of French notations of similar toys, and also an Indian reference to the Chucki (chookey).
One of the most popular urban legends about yo-yos, is that they were used in ancient times in the Philippines as weapons. Natives would hide in trees, and bash people on the head as they traveled underneath. A feat that is physiologically impossible, given the toy's structure and actions.
But it was a Filipino, Pedro Flores, who coined the name and began marketing it in the U.S. in 1928. Better than that, he invented the yo-yo contest, and a new craze gripped the nation.
However, members of Congress where not quite as amused, when Abby Hoffman, appearing before them to testify in 1968, took out a yo-yo and "walked the dog". He was cited for contempt.