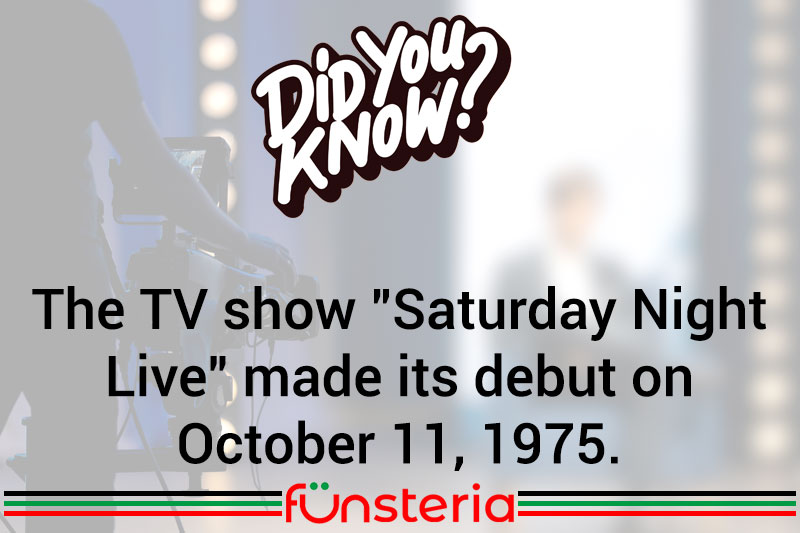 On October 11, 1975, NBC debuted a late Saturday night show that was more or less, a filler. It wasn't expected to do much or do it well. After all, it was only replacing re-runs of The Tonight Show, and people had other things to do on Saturday night, right? Wrong.
The loosely formatted live show, one of the few on air, put together a group of comedic actors, who were touted as the "Not Ready For Prime Time Players". Not many of them were known or recognized, but they soon would be. Original cast members included: Chevy Chase, Dan Akroyd, John Belushi, Gilda Radner, and Jane Curtin, all of whom would go on to further television and movie success.
Each week the show was hosted by a special guest, mostly celebrities from show business, but some who were from more eclectic genres. Among the luminaries listed, were: George Carlin, Ralph Nader, and NBC president Brandon Tartikoff.
While the skits and "shtick" could vary from week to week, and even change right before the light went on the cameras, the show developed a number of famous, and much loved routines. The Coneheads, was the story of an alien space family trying to fit into life on Earth. Father Guido Sarducci dispensed his own kind of benediction and bizarre homilies. Weekend Update satirized newscasters, and Samurai Warrior featured the trials and tribulations of your modern warrior.
In the early years, routines by the newly evolving Muppets were a part of the weekend wackiness. Other acts and routines would come and go, but a constant was the musical guest star, with the show playing host to luminaries like the Rolling Stones, Roy Orbison, Tracy Chapman and Kate Bush.
S.N.L., as it is still known, has experienced a number of production and cast upheavals over the years, but continues to be a cradle of comedy stars for the future.