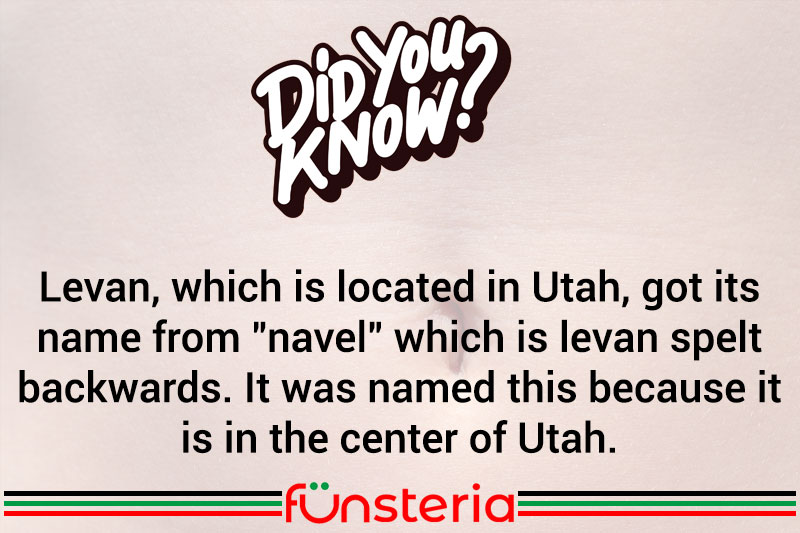 As popular stories go, this little town in Utah is literally the bellybutton of the state. People like to recount that story of its origins, because the town is located in what appears to be the geographical center of Utah. They explain the name as being derived from "navel" spelled backwards. But nobody seems to know whose idea it was.
The more likely explanation, is that is was named by Brigham Young, leader of the Mormon settlement of Utah, who reportedly named it after the term "levan", which meant the rear part of an army on the move.
Young would have been intimately familiar with troop movements, since he and his Mormons were at the center of the brief, but frequently bloody "Walker Wars" in the mid 1850s.
At that time, the Mormon settlement had begun interfering with the native Paiute Indians hunting and trade with New Mexico. Things came to a head on July 17, 1853, when in a settlement near Springfield, James Ivie stepped into an argument between a Ute man and his wife, and in attempting to break up the ensuing melee, killed a relative of the Indian Chief, Walkara.
Tradition demanded the life of a Euro-white man in return, but the settlers were unwilling to surrender any of their own, which touched off more than a year of hit and runs by both Indians and settlers, with the last massacre of seven engineers on the bank of the Sevier River, an act that was blamed on agents of Brigham Young.
In early 1854, with little resolved by the fighting, or army intervention, Ute leaders made peace offers to the settlers. Eventually, Young and Washara sat down and smoked a peace pipe, with Washara agreeing to the surrender of a large section of land that now contains the town of Levan, in return for a 20 year payment plan of horses and other goods.