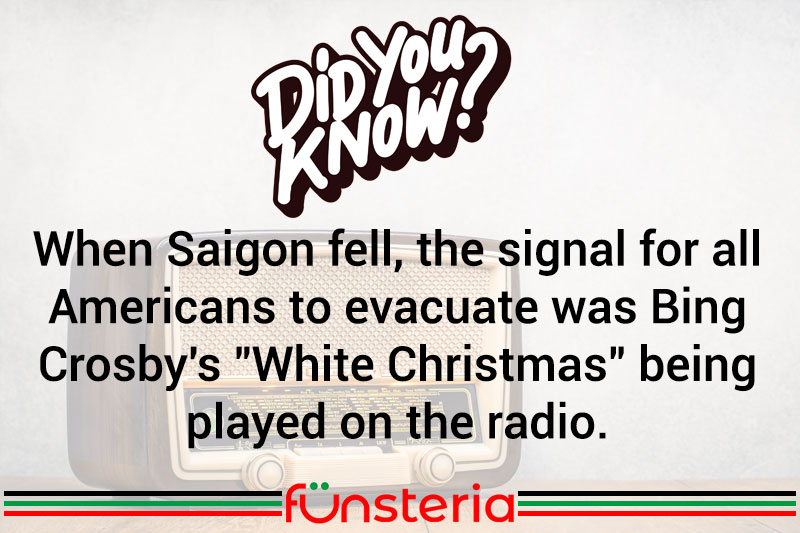 It was perhaps an ironic subject for a song considering the composer was Jewish. One of the verses also poked fun at a Los Angeles person pining for the season up north, places where Russian immigrant composer Irving Berlin had never been. But successful it was, and quite literally as he told his secretary the morning after he had penned it, he'd written the best song ever.
The velvety voiced crooner Bing Crosby introduced the song on his signature radio show in 1941, and then went on to star in the musical "Holiday Inn", where his duet with Marjorie Reynolds attracted a wide following.
It was first recorded in May of 1942 in just 18 minutes total, orchestration included, and spent 11 weeks at the top of the charts, a place it reclaimed in 1945 and 1947, partly due to the sentimental feelings it evoked in the face of war and its aftermath.
The master copy of that recording had been used so often it became damaged, and the ones we hear of Crosby today, are actually from a 1947 re-recording that replaced the worn copy.
As the featured song in 1954's movie of the same name, "White Christmas" claimed an Academy Award, and remained the biggest selling single ever, with over 30 million copies sold, until Elton John's tribute to Princess Diana, in 1997.
It would also hark back to times of war, once more. During the Vietnam War, the signal for American troops to withdraw upon the fall of Saigon, was when they heard "White Christmas" on the radio.