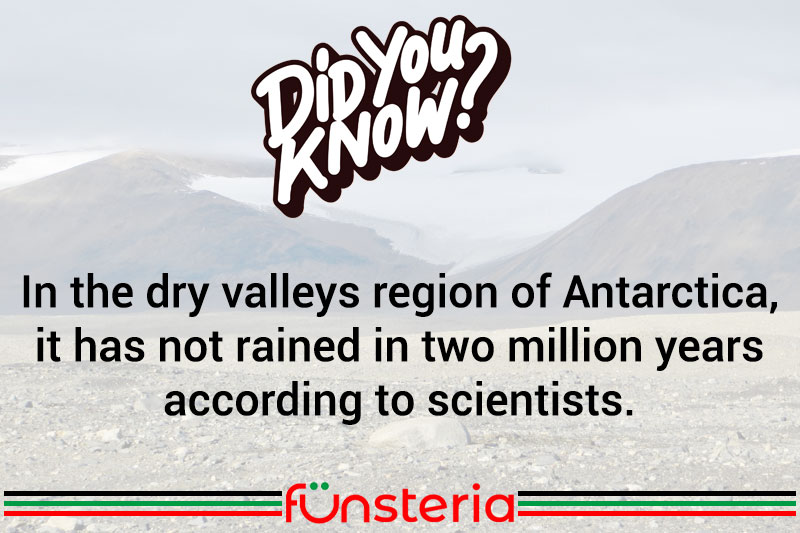 Although its barren desert-like conditions may have been traversed by the ill-fated Scott expedition in 1912, the Dry Valleys region of Antarctica were not formally discovered and recorded until the mid 1950s.
Given the endless miles of snow and ice, where temperatures have gone as low as -89C, the stretch of barren territory came as quite a surprise to explorers. Like any other desert, it has long stretches of plains, sometimes 100km or more, that create optical illusions by making the horizon appear closer than it is. And while it does have rocky outcroppings, and mountains around the perimeter, there is virtually nothing else within the valleys except frozen dirt.
Even the mountain ranges have prevented ice from moving down into the valleys. It does snow in the Antarctic however, a whopping two inches of precipitation per year. But at the average temperatures, it doesn't rain. So why are the valleys bare of any kind of moisture?
Because of the Katabatic winds that whip down the mountains and over the bare ground at 100mph. With the sole exception of one valley which experiences a flow of water along its riverbed in summer, the region is totally dry, and scientists estimate it has not seen rain in over two million years. The conditions are so unique as to resemble the surface of Mars, which made the Dry Valleys a perfect testing ground for NASA to prepare their exploratory equipment for the red planet.