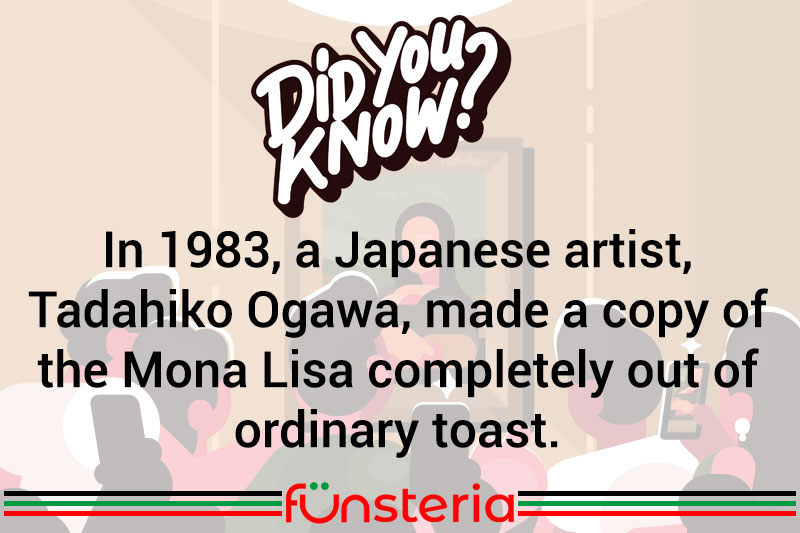 Since Leonardo da Vinci first laid brush to canvas and reproduce the infamous smile of the Mona Lisa, others have been trying to reproduce his work. Some in most interesting ways.
In 1997, as part of a Japanese "food as art" exhibition, Tadhiko Okawa copied the great artwork, entirely in toast. The picture was first etched onto tin foil, then each section was transferred to a slice of bread, which was toasted in an upright toaster. The masterpiece contained 1,426 slices.
Marcel Dechamp, a self-styled Dada artist, painted his version of the Mona Lisa in 1919, endowing her with a moustache, and title with the letters "L.H.O.O.Q." Dechamp, who was French born, was having his little joke with the art world. When pronounced in the French fashion, the letters phonetically sound like "elle a chaud au cul", or …ahem, "she has a hot arse".
Eduardo de Valfierno, pulled off the most famous Mona Lisa heist in history, back in 1911. He first had six fakes painted, and shipped to different parts of the world. He then hired Vincenzo Peruggia, one of the carpenters who worked on the painting's protective case, to conceal himself in the museum overnight, and walk out with the stolen artwork, the next morning. Once the painting was stolen, Valfierno was able to market his six fakes as the "real" thing. He didn't even bother to contact Peruggia for the original. The carpenter was caught trying to sell it, two years later.