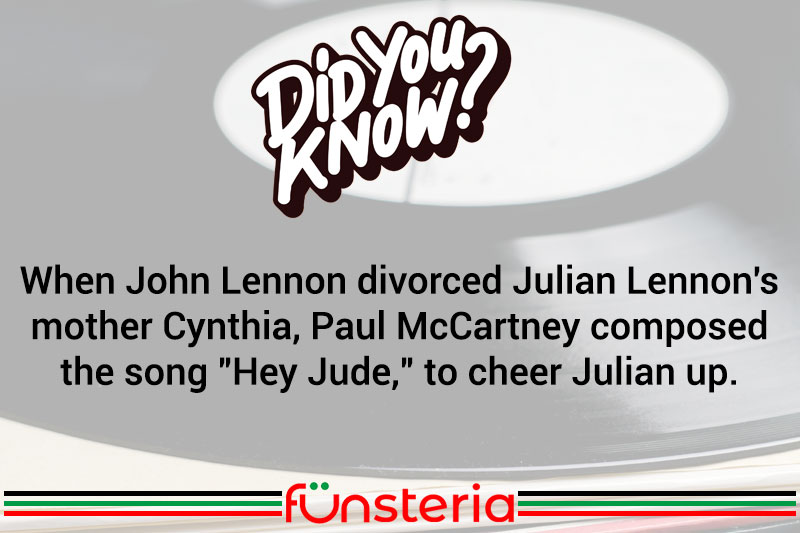 One of the Beatles best kept secrets, was John Lennon's marriage to wife, Cynthia Twist. The two had met at the Liverpool College of Art in the late 1950s, where an aunt had managed to get Lennon enrolled.
They dated for some time, before Twist discovered she was pregnant in 1962. Their son, John Charles Julian Lennon, was born April 8, 1963. It would be another year, before raging fans discovered that one of the fab four had deserted them, and gotten married.
On the one hand, they needn't have worried, because 1968 would see Cynthia suing for divorce on the grounds of John's adultery with Yoko Ono. Lennon did not contest the divorce. But their son Julian, took the separation very hard.
In the role of family friend, Paul McCartney wrote the tune "Hey Jude", which was originally "Hey Jules", to cheer Julian up. The title change is attributed to McCartney's fondness for a character named "Jud" in the stage musical Oklahoma.
An early version of the song's lyrics, written in a notebook belonging to Beatle aide Mel Evans, sold for 110,000 pounds at a Sotheby's auction. In April of 2002, McCartney blocked a Christie's auction of his original handwritten lyrics, all 19 lines on a torn out sheet of notebook paper. The man offering the paper for sale, claimed to have picked it up in the Portobello market, 30 years before. McCartney countered that it had disappeared from his house.