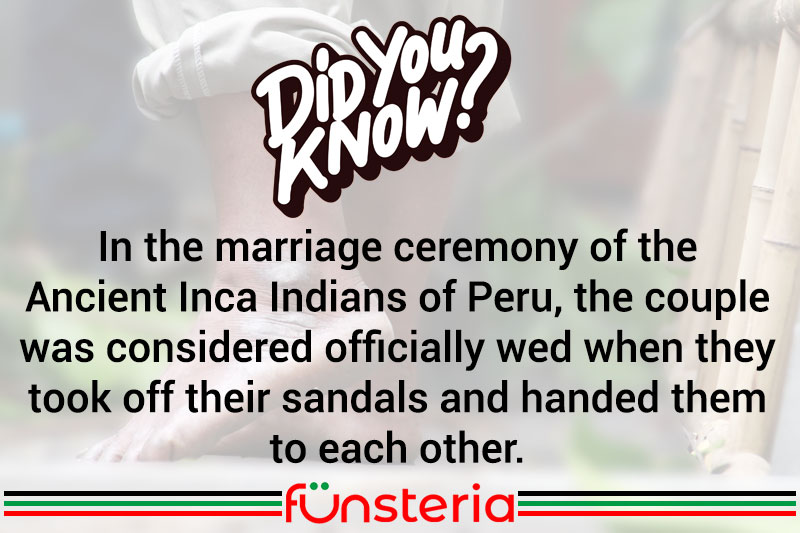 That somewhat unflattering remark is usually applied to a spouse of long standing, the implication being that they know each other so well, that they are quite cozy together. But shoes have had their foot in the door of marriage, for much longer than that relatively modern day quote.
At one time, the joining of couples was as simple as a handfast ceremony in which the couple declared their intent. But as our world became more "civilized", it evolved into literally a transfer of property, including the bride.
The first such formal traditions evolved in Roman times, when a woman could be given away by her father, as a symbol of transferring his rights over his daughter's dower or other property, and her life. As time passed, Anglo-Saxon traditions came more and more to symbolize the transfer of actual property that accompanied the bride in her marriage, and was represented by the father handing the groom the bride's show during the ceremony. The groom would then tap her on the head with it to show his authority. (There are no notes as to whether she was then allowed to put it back on. Or whether she then returned the favor and smacked him upside the head.) In France however, the groom would stand for the ceremony with his foot on the bride's shoe. Presumably so she wouldn't change her mind.
About the same time in the Middle Ages, throwing shoes at the happy couple, became a way to express your wish for their good fortune, and a way to ward off evil. From that practice, originated the modern day trick of tying old shoes to the back of carriages and then cars.
Things were so much simpler in Ancient Peru, where Inca Indians were considered wed after they took off their sandals and handed them to each other, an indication that they would accept the will of the other.