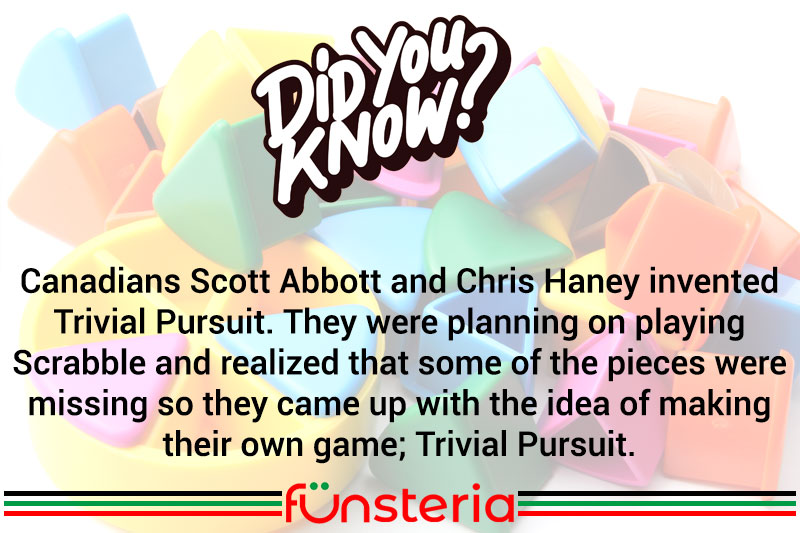 That's just one of those random, almost pointless questions that players of Trivia Pursuit would jump on in a flash.
Trivial Pursuit was the game goldmine of the 1980s. Two Canadians, Chris Haney and Scott Abbott, got together one night for a game of Scrabble. Haney was the photo editor for the Montreal Gazette newspaper, and Abbott was a sports editor for the Canadian Press. Both were competitive, and when they discovered pieces of the Scrabble game were missing, the two of them kicked around ideas for their own game, finally coming up with the concept of asking questions based on general knowledge and pop culture.
Conceived in 1979, the game didn't get off the ground until two years later, when the initial run of 1100 games cost $75 apiece to produce. The pair, in partnership with Haney's brother and a friend of Abbott, supplied the game to retailers for $15, where it sold at $29.95, something of an anomaly in that era. Who was going to pay that kind of money for a game? As it turned out, not many. Not in the beginning.
With their own funds almost gone, they began selling shares in their company. At the 1982 American International Toy Fair, they had 20,000 games ready to go. But only a few hundred were sold. Re-trenching, they found a Canadian distributor, and in 1983 arranged with the Selchow and Righter Game Co. to manufacture and distribute it in the U.S. The firm hired a PR firm, who initiated a mass mailing to Hollywood stars and nearly 2,000 of the top buyers at the 1983 International Toy Fair, and the game took off into history.
Oh, and the name? That has to do with a 1984 lawsuit by Fred Worth, who claimed that Haney and Abbott had taken all their material from his trivia books, including the one thing he had invented, in order to catch plagiarizers: the first name of fictional police lieutenant, Columbo. In his book, Worth had listed it as "Philip", and that fact is repeated in the Trivial Pursuit game. But while Haney and Abbott admitted to having used that fact and others from Worth's books, they demonstrated that their material had been compiled from a number of sources, and the suit was dismissed.
Did Columbo have a first name? Yes. When the original t.v. series was released on DVD, an episode called "Dead Weight" shows a close up of his badge, with the name Frank Columbo.