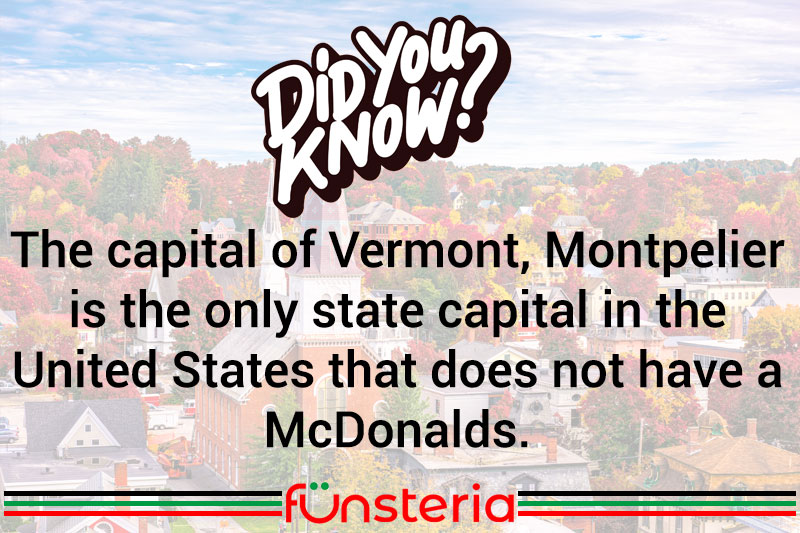 Vermont is one of those beautiful, northeastern states where you can enjoy the changing seasons and all that goes with them, along with some of the local history and things peculiar to the locality.
Although it stands on its own now, Vermont was once a bone of contention between New Hampshire and New York, but finally slipped out of the fray by obtaining statehood in 1791. In fact, it was the first state admitted to the Union after the Constitution was ratified.
It has really boomed since those early days, with many high profile businesses including Ben and Jerry's Ice Cream, who are not the biggest employers as some may think. That honor belongs to IBM. On the other hand, some things have taken a while to catch on. There was no Wal-Mart in the entire state, until 1996.
Not to say that there aren't some shining highlights, here and there. For example, in Montpelier is one of the few state capitol buildings to have a gold dome. The city also claims the distinction of the country's smallest state capitol, with a population of only 9,000. In Vermont, you are required to a have a photo I.D. license, which are only issued in Montpelier. The catch is: you have to drive there to get one.
Vermont is a great place to eat, too. Spring heralds the flow of maple syrup in Montpelier, the biggest producers in the U.S. There's also the famous Ben & Jerry's Ice Cream, where the "waste" products are given to local farmers to feed their hogs. It's reported that the porkers don't care for the mint Oreo flavor. But if you want a burger, you best eat at home. Montpelier is also the only state capitol without a McDonald's restaurant.