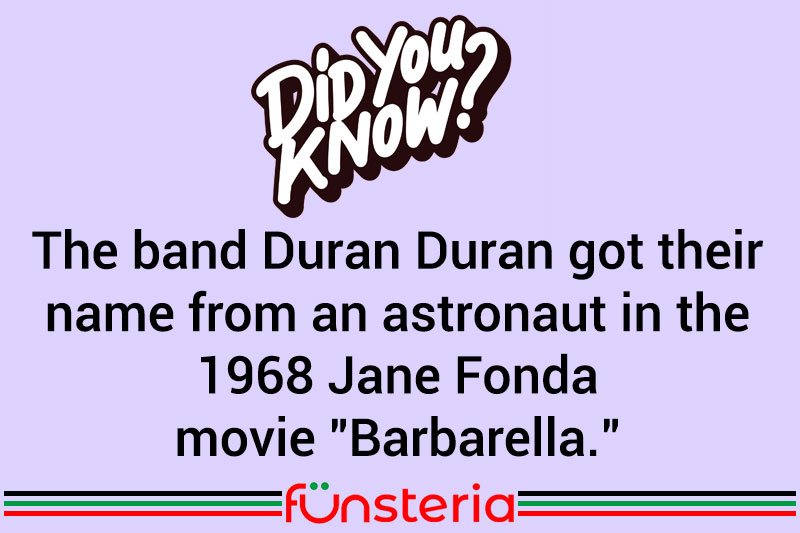 Duran Duran, the UK band that changed members more often than they changed their socks, actually got their name from the highly overrated and thankfully underwatched Jane Fonda movie, "Barbarella", which also happened to be the name of a favorite club in Birmingham.
In this lamentable science fiction film, the character of Duran Duran, was a mad scientist, determined to conquer the Universe, and generally stir up as much dirt as possible. He places the space adventurer heroine Barbarella (Fonda), in a piano/organ device that strips off her clothes and does other things not compatible with the movie's PG rating. In the end, Duran Duran was eaten by Magmous.
The band came together in the late 70s, and by 1981, their debut LP Duran Duran, had made the top 3 in England. Their biggest selling LP would be Rio (1982), and their top selling single, Ordinary World (1993).
Late in 1997, they would re-record the album Medazzaland, which contained the quirky, and eclectic number, Electric Barbarella. It would be the only single released in the U.S. The video of EB featured band members playing with a sexy robot. Even MTV censored that one before it was broadcast.
Keeping abreast of the times, Duran Duran insisted on selling the single of Electric Barbarella online, prior to the release of the actual hard copy, something that highly annoyed British record moguls and resulted in the album never being released in England. However, EB did sneak onto the charts as a single off their 1998 compilation album.