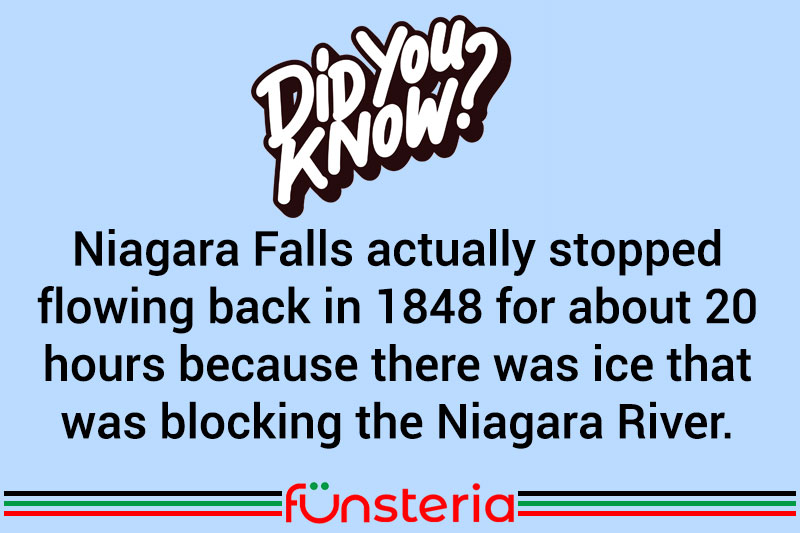 Most people tend to think of the horseshoe shaped phenomenon as Niagara Falls, when in fact the Falls is a grouping of three such sights including Horseshoe, American and Bridal Veil Falls.
Technically speaking, the Falls themselves are not as deep as they appear, due to the rock formations at the bottom, which are the reason so few daredevils have survived a plunge over them in barrels and other vessels. The American and Bridal Veil Falls are listed at 176 feet high, but about 76 feet of that is rock. Horseshoe Falls does go a little further before reaching the boulders, with a height of 167 feet. Collectively, they spew a lot of water in a day, with 150,000 gallons per second rushing over American/Bridal and four times that pouring over the Horseshoe Falls. Goat Island in the Niagara River, interferes with the flow/power on the "American side" as it's called."
Because of the constantly moving water, the Falls never freeze over. However, the misting that occurs from water striking the rocks, can freeze, and cause piles of ice along the shore, up to fifty feet high. In the 19th century, this eventually reached out from both sides and formed one arch, or ice bridge, on which tourists would take a stroll. This practice was banned in 1912 when the bridge broke, and three people drowned.
The flow has only been halted once in known history, and it was because of ice, although the Falls had not frozen over. It was a build-up of ice floes and breaking ice above the Falls, which stopped the water on March 29, 1848. People were actually able to walk out and pick up items off the riverbed.