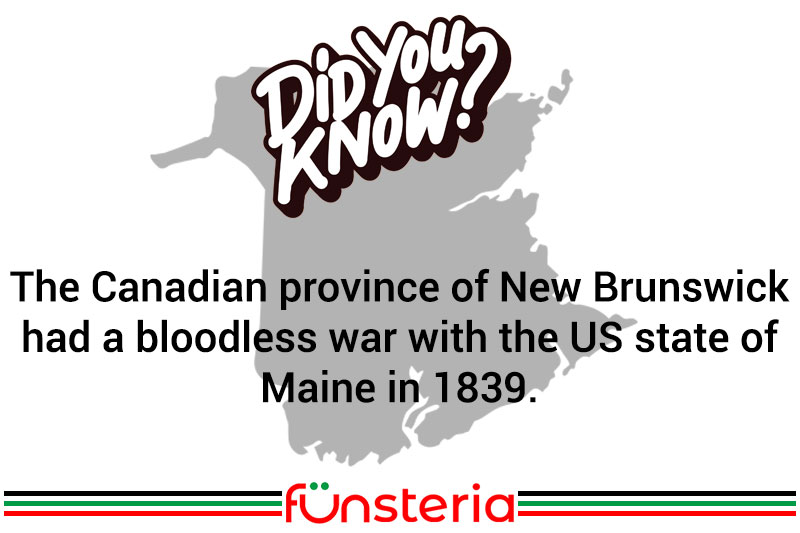 When two neighbors are as close as Canada and the U.S., there's bound to be a little pushing and shoving over the lines in between. Especially when those lines are a bit blurry.
In the winter of 1838-39, the Aroostook or Pork and Beans war, "erupted" between the state of Maine, then part of Massachusetts, and the British territory of New Brunswick, a province of Canada.
It seems the 1789 Treaty of Paris, failed to firmly define the boundary between the two. And when Maine became its own state in 1820, and started granting land in the Aroostook valley, which the British considered theirs, tempers flared and panic buttons were pushed.
The United States Congress authorized a force of 50,000 men, and set aside $10 million dollars for the anticipated long haul. Maine itself contributed between three and ten thousand troops, which likely gave the entire episode it's gustatory name, for the pork and beans eaten by the idle soldiers.
Because not a shot was fired. Everybody hung around, arguing about how best to settle the whole thing. The matter was referred to a boundary commission in 1842, which utilized a map with a red line on it, drawn up in Paris in 1782, reportedly by Benjamin Franklin, to prove where the intended boundary was to have been.
There is only one known casualty of the war, and it was not combat-related. While others died of illness, the cause of death for Pvt. Hiram T. Smith, a Maine soldier, went unrecorded. He is buried on the side of the "Military Road" (U.S. Highway 2), in the middle of the Haynesville Wood