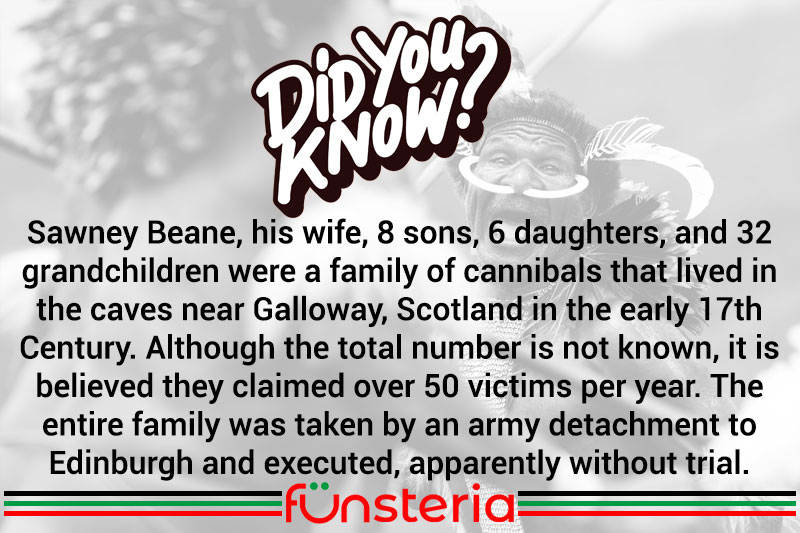 Born in the reign of James VI of Scotland (later James I of England), Sawney Beane, a farmer's son, exhibited undesirable behavior from the outset, including sullenness, vicious streaks, and spells of violence. As soon as he was old enough to survive on his own, Sawney Beane took to the hills, and eventually to the beach, in company with a young woman as bent and twisted as himself.
On the sands near Galloway, they located a cave that led almost a mile inland, and which flooded a good 200 yards at high tide, making for a solitary, and isolated place to hide, where no man in his right mind would even look. And there would be cause for the Beanes to hide.
With no job, and no source of income, Sawney Beane turned to highway robbery, murdering travelers in the area, and taking whatever money and jewels were to be had. Oddly enough, he was aware he couldn't pawn the goods or he would be caught, but he took them anyway and stockpiled the valuables in his cave.
But there wasn't a lot of money in being a highwayman, because in the wilds of Scotland, few people traveled with a lot of cash on them. So when it came to the necessities of life, the Beanes were often short of the money to purchase food. Which led naturally, in Beane's demented mind, to answer when opportunity knocked. He and his wife, began eating his victims. Soon, the ceiling of the cave was hung with hunks and limbs of pickled human flesh, preserved against the "leaner" times ahead. But there were a lot of people on the road, and Beane was a busy man. At times there was so much "food" in the larder, it started to putrify, and for years, hunks of flesh, and human limbs, strangely preserved, would be found around the countryside.
Their reign of terror would go on for 25 years, during which the Beanes produced eight sons and six daughters, who in turn, produced 32 grandchildren through incest. And every one of them a cannibal, raised on murdering and human meat at every meal.
As they became old enough, the Beane offspring joined in the harvesting of food and money, occasionally venturing into a nearby village for supplies, with nobody the wiser. The Beanes themselves were wise too, never attacking a party with more than two people on horseback, and carefully setting up three-pronged attacks so there would be no escapes. Then one day, their luck ran out.
The clan attacked a man and wife returning on their one horse, from a fair. While the husband fought to defend them, the woman fell off and was butchered in front of his eyes. But as they were about to drag the man down, another party of some 20 riders returning from the same fair, came upon the scene. The Beanes turned and ran.
With the victim and twenty witnesses, authorities at last had a handle on who had been murdering an estimated several hundred people over the preceding 25 years. James VI himself led a force of 400 men, who almost bypassed the mouth to the cave, but their dogs insisted on going inside, where their howls announced the discovery of the Sawney Beane clan, and their human treasure trove.
The entire family, down to the youngest, were marched off to Edinburgh, and executed the next day by the traditional method of the times: the men were dismembered and bled to death, while the women were tied to three stakes and burned. There was no trial, their guilt being so evident, and no mercy, because it was declared that having been raised for that length of time on murder and eating human flesh, there would be no rehabilitation.