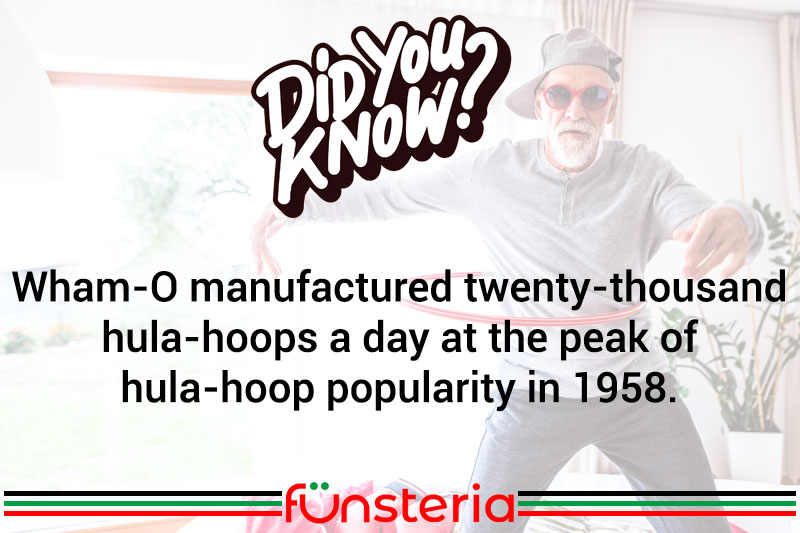 While it was never so popular as in the 1950s and 60s, the hula hoop is not really a new invention. Children have played with hoops of varying sizes for thousands of years, twirling them, pushing them along with sticks, and slinging them around their arms. But it would be the Wham-O Company that brought the circular bit of plastic, to an all-time position as a national mania.
Proof of their pre-existence is found in ancient Greek records, where rolling it around the hips was recommended as a weight loss measure, and in accounts written in the 1300s in England, where using hoops this way was credited with sprains and heart attacks.
But no such potential dangers were on the minds of Richard Knerr and "Spud" Melin in 1957, when an Australian visitor told them how children in his country had great fun, slinging bamboo hoops around their hips. The pair of inventors, whose chief product up to now had been a sling to shoot raw meat into the air to train hawks and falcons, already had a company named for the sound their sling made: Wham-O. They started turning out a hollow plastic hoop that quickly became a smash hit with children.
Their secret was a formula for Marlex, which combined polypropelene and polyethylene. It gave the hoop bounce and flexibility. And kids snapped them up in record numbers, with more than 20 million sold in the first six months, at $1.98 each. The next year, when it went nationwide, they sold 25 million in just two months.
While not exactly a flash in the pan, its popularity dropped off to the position of "novelty toy" by the end of 1958, after making some $48 million dollars profit.