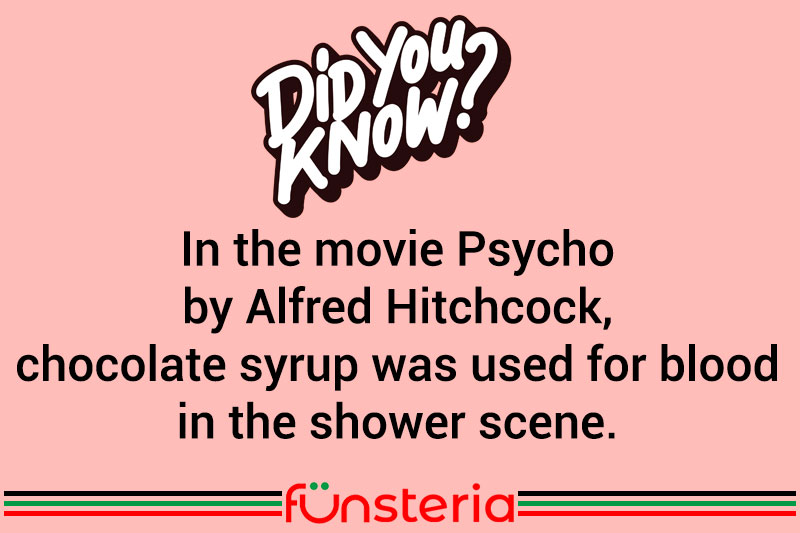 The epic 1960 thriller from Alfred Hitchcock remained the gold standard for psychological horror films for decades. Always wily and ready to wring the last scream of terror from his audiences, Hitchcock had the film shot in black and white for dramatic effect, preferring to put more emphasis on the psychology of the characters and plot, than the visual color/effect of buckets of blood on the walls. To that end, he made sure the "blood" looked its very best, by using chocolate syrup, instead. It was dense, dark, and poured slow enough to mimic the real thing.
That entire movie was a collection of movie firsts, and Hitchcock's own quirky twists and teasing of the audience. The character of Marion, played by Janet Leigh, was shown first in white bra and slip near the start of the movie, and later on was shown in black underwear, to demonstrate the light/good versus the dark/bad side. It was reportedly the first time a woman had been seen in a theater movie, with nothing on but her undergarments.
Hitchcock of course, made his famous cameo appearance in the scene where Marion is leaving town with the money. He is standing on the street corner, and crosses in front of her. Another Hitchcock appeared in the movie as well. At the beginning in Marion's office, the other woman seated at a desk, was his daughter, Pat. And while she may not have gone on to entertainment fame, the actor who played the young cop guarding Perkin's interrogation room, did. That role was filled by Ted Knight, who would one day go on to wild popularity as the bumbling Ted Baxter of the Mary Tyler Moore Show.