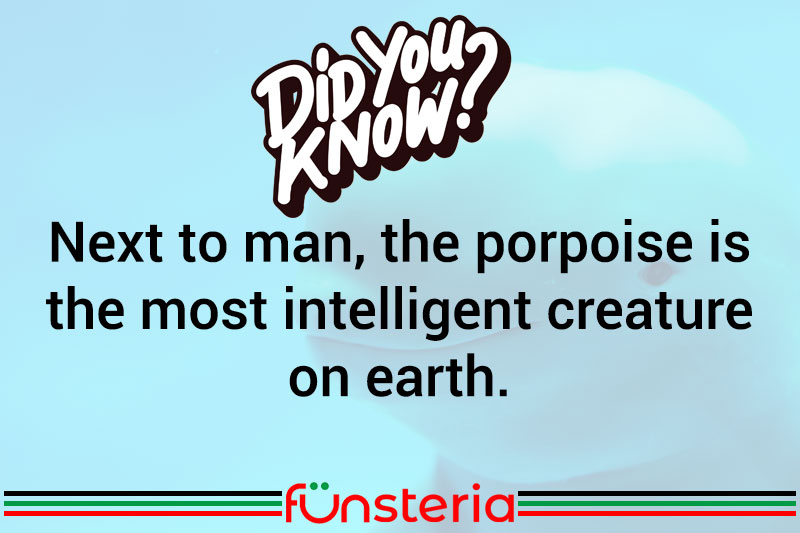 Most concepts of the porpoise, deal in images of a playful fish-like creature, cavorting in the ocean, to no purpose except to do whatever it is fish occupy themselves with. But do they have a higher purpose, and if so, do they have the higher intelligence, comparable to man, to carry out actions that require reasoning?
Almost two thousand years ago, Plutarch wrote in 62A.D. that "the dolphin alone, beyond all other, nature has granted what the best philosophers seek: friendship for no advantage". Even then, dolphins, a member of the cetacean order, were recognized as a species accepting of others, something homo sapiens have not quite mastered yet.
But are they intelligent? Scientific studies confirm that with a resounding "yes!" Are they as smart as man? That depends on what "yardsticks" you're using to compare their actions and "rationale".
Brain size may or may not be relevant to the level of intelligence in both species. The upper weight for an adult man is in the 1700gram range, with 1450grams being an average. The bottle-nosed dolphin at birth, has a weight comparable to a human baby, despite the difference in brain size. And while brain growth in humans slows at around 17 years, in dolphins it slows much earlier, at eight years of age, but the brain continues to grow slowly, and eventually reaches the upper range of the weight for a human brain.
On the other hand, the chimpanzee, long-touted as being closest to man in development and/or evolution, has an adult brain weight of around 350grams, about half the ratio of a dolphin brain. In experiments where a probe inserted in the brain of a dolphin produced pleasurable "rewards" when they pushed a rod, the dolphin actually watched researchers assemble the structure and immediately used it to get the reward. When the same experiment was carried out with chimps, it took them an average 100 tries to learn the same action/reward process.
Countless other experiments and experiences, have clearly shown that dolphins have an intelligence superior to other mammals, possibly even on a par with man. So who is the smarter? Until we can develop a language by which man and dolphins can communicate, we will never know. Dolphins lack the extremities by which to manipulate their environment, and so their intelligence remains locked inside the sleek bodies, emerging in flashes that show humor, compassion, curiosity, and an almost human capacity to love.