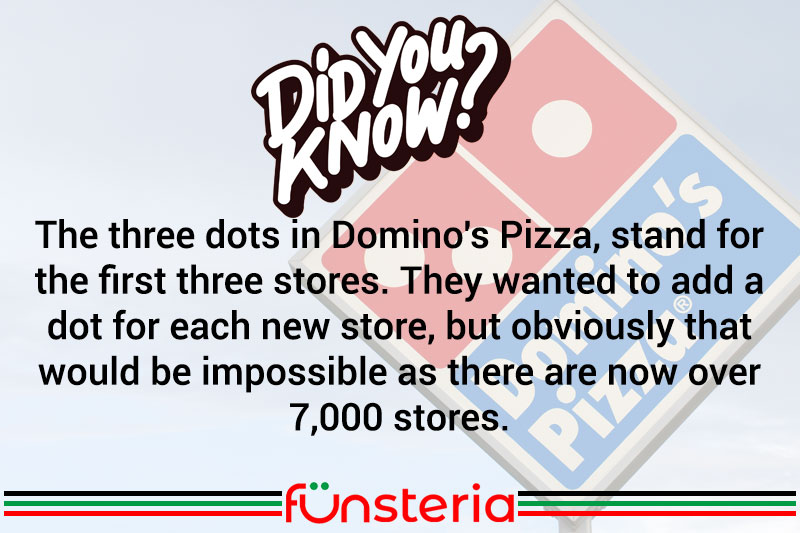 No, that's not what the three dots on the Domino pizza box are. Those spots are symbolic of the first three stores that Domino's opened, although the original plan to add a dot for each new store would have ruined the domino design, not to mention the box, since as of 2006, there were over 8,000 outlets.
The business was started back in 1960 by brothers Tom and James Monaghan. With a $75 down payment, and $500 borrowed, they bought a small pizzeria named Dominick's. But James' heart wasn't in the business, and less than a year later, he traded his half of the ownership to Tom, for a used Volkswagen Beetle. Tom then named the single store Domino's and he was off to the pizza races.
Despite a 1968 fire that destroyed their small headquarters, the company forged ahead, and ten years later were opening a 200th store. Part of the appeal was Domino's offer of free pizza if it wasn't delivered in 30 minutes. In the 1980s this was changed to a $3 off discount, and then dropped entirely due to the rising number of accidents and pedestrian injuries caused by Domino's drivers trying to beat their time limit.
It remains America's second largest chain, in an industry that sells over three billion pizzas a year, with five super sales days including Super Bowl Sunday, New Year's Eve, New Year's Day, Thanksgiving Eve, and Halloween.