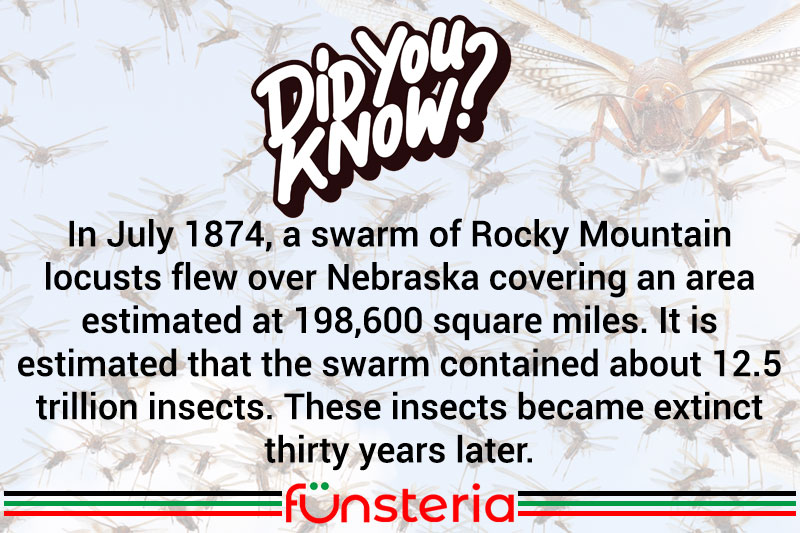 The grasshoppers that children catch in jars today, are relatives of the locust, but thankfully, don't exist in nearly the numbers that devastated nine states in the 1870s.
From 1874-1877, residents of Kansas, Missouri, Minnesota, Iowa, the Dakotas, Colorado, Wyoming and Montana would wage a losing battle against clouds of Rocky Mountain Locusts, which sometimes exceeded areas twice the size of Texas.
When the vegetation was gone, the locusts went on to eat almost anything else they landed on, including laundry hung out on lines, leather saddles, and the wool right off the back of sheep in the pasture. They crunched underfoot, often six inches deep or more. The noise of their approach was described in terms of thunder, an intense hailstorm, or a driving snowstorm. So great were their numbers, and so heavy their weight, tree limbs broke under their bodies and tumbled them onto the nearly barren land.
Bizarre and desperate measures were taken, and rewards were offered, including a $5 bounty for a bushel basket of the dead pests. One of the few effective methods used, originated in Colorado, where a field-wide length of wire was wrapped in oil-soaked rags then set alight and dragged over the field.
How many locusts were involved in the swarming? A Nebraska physician telegraphed to points around him, to determine the edges of the mass, then calculated their depth, and the rate of movement. His figures are the basis for the Guinness Book of Word Records entry on the greatest concentration of animals: "`A swarm of Rocky Mountain locusts that flew over Nebraska on July 20-30, 1874, covered an area estimated at 198,000 square miles. The swarm must have contained at least 12.5 trillion insects with a total weight of 27.5 million tons."
And yet, 25 years later, they would be extinct. Scientists working with 100-year old records, studied the life cycle and habitats of the locusts, and concluded that the pests had not been victim to a sudden environmental disaster, but rather the encroachment of man. For when the Rocky Mountain Locusts entered the reproductive phase of its life cycle, which follows swarming activity, they laid eggs in the very ground that beleaguered farmers ploughed up to re-plant. With the growth of farms in the areas hardest hit, a section that ran north-south in the central U.S., the locusts were gradually wiped out. The last known pair was collected on July 19, 1902 and are now part of the Smithstonian Collection.