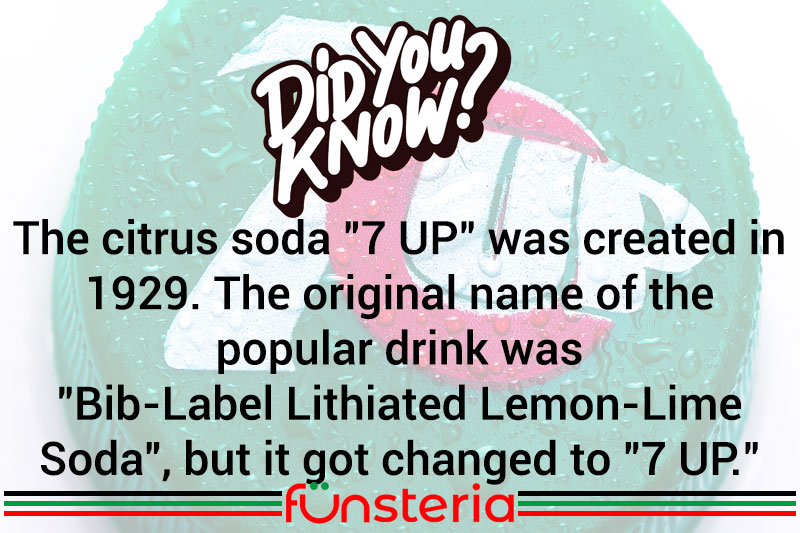 Do you burp seven up? That old kid's joke might not ever have come into being, if C. L. Grigg hadn't tried 11 times to perfect his recipe for a new soft drink.
Grigg, who formed the Howdy Corporation, named after his first orange drink creation, was determined to invent a new, lemon-flavored drink to capture the nation's taste for thirst quenching drinks. It would take him two years, and 11 rounds of testing to come up with what we now know as 7-Up.
And it succeeded despite the most inauspicious debut possible. Seven-Up went on the market just two weeks before the great stock market crash of 1929. At that time, there were over 600 lemon-flavored drinks available to consumers. Not that he intended to make it hard for people to remember his new product, but Grigg named it "Bib-Label Lithiated Lemon-Lime Soda".
Much to everyone's surprise, it sold very well in the competitive market, and Grigg changed the name to Seven-Up as he offered the public a new beverage with a "taste wallop".
After 15 years on the market, it was the world's third largest selling soft drink, which set the company to searching out an appropriately catchy slogan. In 1967, they began touting 7-Up as the "uncola", which sent sales through the roof. The tag line still sticks to the product almost 40 years later, even after several other slogans replaced the original.