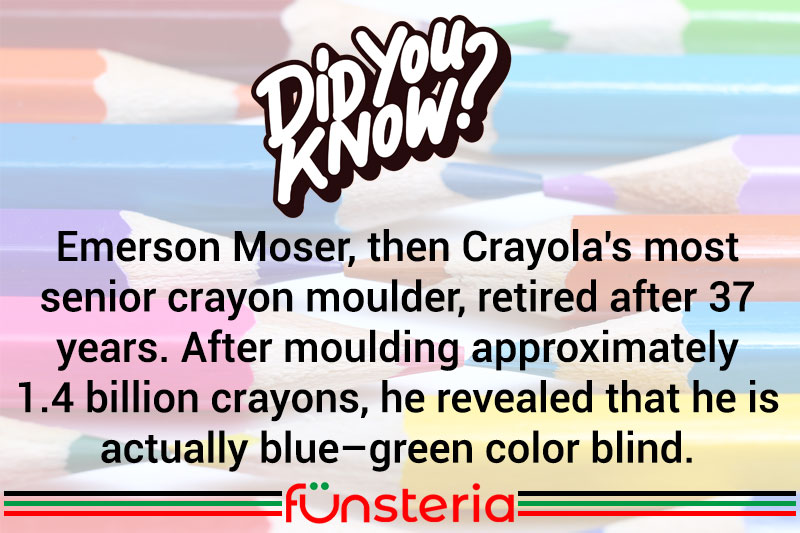 What we know as the modern crayon, started life in Europe as a cylinder made from oil and charcoal. Eventually, someone caught on to using powdered pigments from various sources to replace the charcoal, giving the art medium more range of color, and safety as well, since charcoal could be toxic.
But how did they cross the ocean? Likely in the same manner as other things, they arrived with immigrants and made their way into the fabric of a nation. In 1864, one Joseph Binney founded the Peekskill Chemical Company, which produced paints and coatings in blacks and reds, including the all-American red oxide paint used on barns.
Twenty years later, his son Edward Binney, and nephew Harold Smith, formed their own company and expanded the family product line to shoe polish and printers' ink. By 1900 they had purchased a mill to manufacture slate pencils for schools, and therein lies the inspiration for the crayon. Binney and Smith, interested in producing more colorful ways for children to express themselves, took their crate marking crayons that contained too much carbon black to be safe, and altered the formula so that it used wax and pigments, and the Crayola crayon was born in 1903. They acquired their name courtesy of Alice Binney, Edward's wife, who combined the French word "craie" for chalk, and oily/oleaginous.
The 100th billion crayon, a limited edition called Blue Ribbon (only one million were made) was turned off the assembly line in 1996, by none other than Fred Rogers of Mr. Rogers' Neighborhood. Fred had something in common with Edward Moser, who in his 37 years at Crayola before he retired in 1990, had made 1.4 billion crayons. Both Rogers and Moser were colorblind.