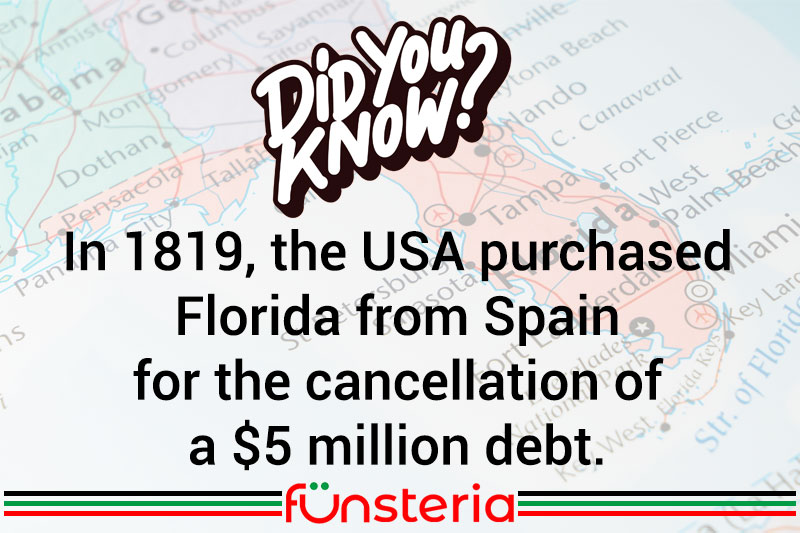 The best real estate deal in Florida, was Florida. President James Monroe negotiated permanent ownership of the sunny peninsula, in 1818, after Spain realized that they couldn't protect their colony there, and if the Americans took it into their head to plant the stars and stripes on it once more, Spain would be the loser. So they traded the state to the U.S. for cancellation of $5 million dollars in Spanish debts.
Granted, it wasn't the bargain that Peter Minuit got for Manhattan. He bought the land from American Indians in 1626, for 60 Dutch guilders worth of trinkets.
This has been long touted as the $24 purchase of Manhattan. But in reality, if you go over the calculation in currencies, and "pro-rate" it to today's money, it was a tiny bit more. (The $24 figure was arrived at in the 1800s.)
Those 60 guilders in 1626, would have been equal to 1 ½ pounds of silver, assuming troy weight, which is 12 ounces to the pound. At the start of the new millennium, a troy ounce was selling for $4, which makes the purchase worth $72 in today's money.
Now, take the rough size of Manhattan today, just over 14,000 acres, and divide it into $72. That means that at today's money, Minuit paid ½ cent per acre.
In 1990, the New York Public Library showed that taxable real estate in Manhattan was worth $47 million dollars. If even ¼ of that was land alone, (and you want to do the math) it means that today, the same acre in Manhattan would cost you nearly $900,000.