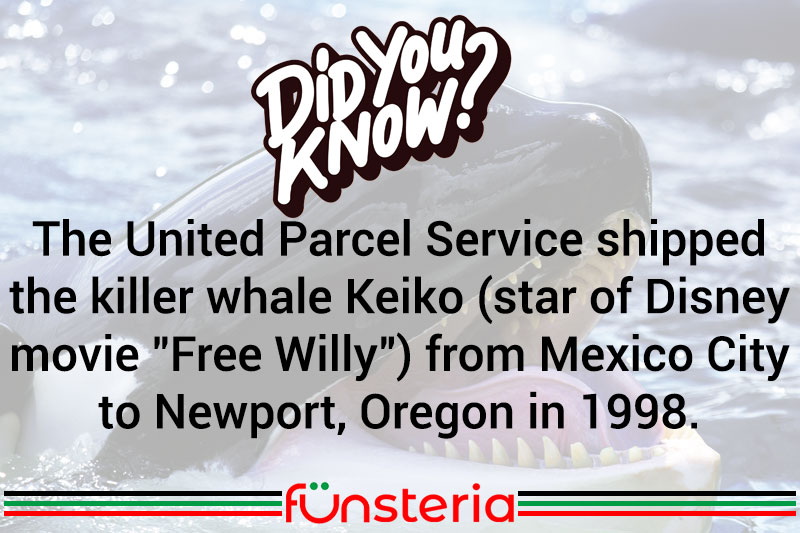 When Warner Bros. movie studio traveled to Mexico in 1992 to film the low-budget movie "Free Willy", they had no idea that the story of freeing a whale from an evil amusement park owner, would lead to UPS' strangest parcel delivery, ever.
Not only was the movie an unexpected success, particularly with children, but it spawned a new and vigorous interest in saving the Killer Whale, and one in particular- Willie, or as he was known at home, "Keiko", which is Japanese for "lucky".
Letters were written, campaigns were started, and with a four million dollar donation from Warner Bros. The Free Willy-Keiko Foundation was formed. For Willie resided in a small park in Mexico, which was too warm for his species, and he languished without the company of other whales, developing skin conditions, boredom chewing of his enclosure, and other signs that his condition was deteriorating.
The owners donated Willy/Keiko to the foundation, and a facility was built in Oregon, where he would recuperate in an environment more hospitable to his species. But how to get there? That's where UPS stepped in, and donated the services of a C-130 Hercules airplane, which in early 1996, flew their gargantuan load to Newport, Oregon.
Once there, Keiko thrived, returning to health and gaining 2,000 pounds. Then came the next stage in his odyssey. Could Keiko be returned to the wild? The foundation started building a facility at Iceland, where Keiko was originally born and raised. The pen would have a zippered door to allow him out into the bay, closed off from the ocean with a specially constructed net. Keiko lifted off for Iceland in late 1998,but alas, he was so large by this time, that UPS had nothing big enough to carry him. Instead, they donated the funds to hire the U.S. Army and a C-17 Globemaster airplane for the trip.
In 2002, Keiko returned to the wild of his own will, following a pod to a fjord in Norway, where he remained, free to come and go, until his death in December of 2003 from pneumonia. At age 27, he was only the second captive male orca to survive beyond 25.